Performance spectrum
Apparatus engineering has a considerable scope of EBNER's product range. According to the motto "Individual service, best quality and reliability" EBNER manufactures apparatuses and heat exchangers for the most different branches of industry.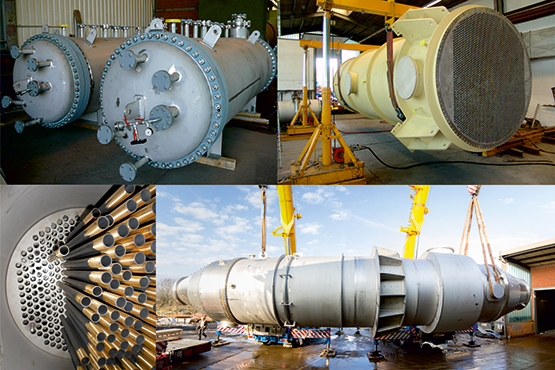 EBNER's workshops at the company headquarters in Eiterfeld have a production area of approx. 6.000 m².
As a plant and apparatus manufacturer in thermal process engineering with its own production facilities, EBNER is a competent partner who understands your processes and can also advise you on the design of your equipment.
In contrast to the classical apparatus manufacturer, who manufactures according to customer drawings, EBNER can take over the complete problem solution including process engineering design, strength calculation, construction, manufacturing, assembly and commissioning by its own staff.
Hereby EBNER processes a wide range of standard and special materials:
Unalloyed steels
Stainless steels such as: 1.4301 (304 (AISI));1.4410 (S32750 (AISI));1.4501 (S32760 (AISI));1.4571 (316Ti (AISI));1.4539 (Alloy 904L);1.4529 (Alloy 926);1.4462 (Alloy 31803);1.4562 (Alloy 31)
Plated materials (titanium plated etc.)
Special materials such as: Aluminium bronze; Hastelloy®; Inconel®; Monel; Copper alloys; Nickel alloys; Graphite
Rubber-lined versions
Other coatings
EBNER has the following certificates / approvals:
DIN EN ISO 9001:2008;
Specialist company according to §19I WHG;
AD2000 HPO / DIN EN 3834-2;
TR-CU
EBNER's range of products includes among others:
Evaporators
Falling film evaporators
Thin film evaporators
Crystallizers
Heat exchangers / Surface condensers
Steam jet pumps
Pipelines
Pressure vessels
Storage tanks
Mixing condensers
Agitation vessels
Reactors
Columns
Special constructions